Several times over the past several weeks my friend Tim and I have met up to plan the schedule and route for our British Virgin Islands sailing trip this coming May, with additional input (and experience) from Charles. The trick has been striking a fine enough balance between seeing as much as we can and keeping it as a vacation, with plenty of time to relax and lots of different activities available for us and our crews.
Sure, we could just arrive there with a rough idea of where we're going to go and wing it: in fact, in some areas that may be just fine (it's what we did on my May 2014 sailing trip in the Sea of Cortez out of La Paz, Mexico: we had a direction picked out and where we ended up was a combination of what we decided in the morning and how the winds were that day), but in the British Virgin Islands in May, there are going to be a lot of other charter boats as well as cruisers, and we'll be competing each afternoon with all of them for mooring balls or anchorages. It also means we don't have to make a decision each morning, instead we can pick from what we've already planned as the primary and alternate sites for that day.
Today we finalized it, for as final as these things can be: You'll notice that we have alternate anchorages/mooring sites for each day. It's a good idea to have a flexible schedule due to variances in weather and even traffic from other boats. So, without further ado, here's what we've got planned.
Friday, May 1st, 2015 – Arrival, Charlotte Amalie to Soper's Hole at Tortola Island
On Friday we'll be arriving at Cyril E. King Airport, on Charlotte Amalie, USVI. A taxi ride over to the east end of the island and we'll hop a ferry that will take us to the West End Ferry Terminal on Tortola, BVI. Just across the water is our destination: Soper's Hole on Frenchmans' Cay, home of Voyage Charters. While we won't be doing any sailing that day, we will be sleeping on the boats that night.
Saturday, May 2nd, 2015 – Soper's Hole to Kelly's Cove at Norman Island
Saturday morning Charles and I will be getting briefed on the boats, doing safety checks, and other prep work. We'll hopefully be leaving as early as possible, though, and the plan is to do a shakedown sail to Norman Island. It's a nice short 7 nautical miles, but we'll both be sailing into the wind (and will likely need to tack) and it'll be our first day out sailing these boats as a new crew, so we should assume some extra time to familiarize ourselves with the boats.
Once we're there we'll have all afternoon to enjoy ourselves. Just to the south, Treasure Point is located between The Bight and Privateer Bay. There's some excellent snorkeling available here, including some very cool caves that you can swim into (but to go more than a few meters in, you'll want a powerful waterproof flashlight!), and we'll be taking full advantage of this.
On land is a beautiful beach and the Pirates Bight Beach Bar & Grill. They serve food, and also have happy hour from 4-6pm. There's also the Norman Island Dive Shop, where you can rent a kayak (among other things).
In the evening, those of us looking for a bit more partying and less relaxation can head over to the William Thornton, better known as the Willy T. The Willy T. is a permanently moored 100-ft long schooner that's been turned into a restaurant and bar, while crew members looking for a relaxing evening can stay aboard, talk, listen to music, and mix drinks for each other.
Alternate to Kelly's Cove: The Bight or Privateer Bay.
Sunday, May 3rd, 2015 – Norman Island to Manchioneel Bay at Cooper Island
On Sunday morning we'll try and make good time to the north end of Cooper Island where we'll be mooring in Manchioneel Bay. This will be a slightly longer trip than the previous day, both in distance and time, as we may be fighting the wind part of the way. With luck, we'll find a pair of mooring bouys available once we arrive. If not, we'll need to decide between the less-wind-protected Haulovers Bay to the south, or heading directly to the Spanish Town marina on Virgin Gorda a day early.
There's ample snorkeling available here, as well as a nice beach with excellent views of the islands to the west and of course the tropical sunset (though, let's face it, you can see the sunset just as well from your boat!). Also ashore is the Cooper Island Beach Club, where we're planning our first full-group dinner ashore. You'll also be able to get drinks at their beach-side outdoor bar if you like; happy hour is from 4-6pm.
Alternate to Manchioneel Bay: Haulovers Bay (as long as there aren't Southerlies predicted overnight) or the Spanish Town Marina on Virgin Gorda.
Monday, May 4th, 2015 – Cooper Island to the Virgin Gorda Yacht Harbor at Spanish Town on Virgin Gorda
Monday will be a busy day. An early (and straightforward) sail of just under 5 nautical miles to The Baths, where if we can catch a day-mooring, we will. The Baths are a series of small beaches and large pools among enormous boulders, with a short trail to follow between Devil's Bay and The Baths, both with excellent snorkeling. If we're not able to snag one of the mooring buoys, we'll head directly up to the Spanish Town Marina and take taxi rides down to The Baths instead.
Regardless, we'll end up at the Virgin Gorda Yacht Harbor that afternoon, where crews can easily go ashore, explore Spanish Town, and generally relax. You can buy snacks or more booze at one of the markets near the Harbor, and there's even a bakery right there for those of us craving fresh baked goods, as well as a dockside bar with relatively inexpensive drinks. (if you go wandering, don't be afraid to stop at a hole-in-the-wall restaurant for some authentic Caribbean chicken curry! I did this during the 2011 trip and it was a great decision.)
Alternate to Spanish Town: Savannah Bay or Little Dix Bay, both on Virgin Gorda just north of Spanish Town.
 Tuesday, May 5th, 2015 & Wednesday, May 6th, 2015 – Spanish Town to The Bitter End Yacht Club
On Tuesday we'll head north along the coast of Virgin Gorda, around the north side of Mosquito Island, and into Gorda Sound, where we'll dock at the ("world famous") Bitter End Yacht Club. This beautiful resort is where we'll probably be spending the next day and a half. There will be hot showers available, a restaurant, various shops, some fantastic beaches, and several guided trips we can organize group outings for, including snorkeling tours, wind surfing, kiteboarding, fishing, and even scuba diving. There are also several places to eat and drink during the day for those of the crew looking for something different than what is being served on the boats.
On the evening of the 6th we'll have our second group dinner, dining at the Clubhouse Steak & Seafood Grille.
For those of us who just can't get enough sailing, we'll also be able to rent small one- and two-person sailboats such as Hobie Wave catamarans and Laser sailing dinghies and race each other around the Sound.
Alternate for Tuesday: If for some reason the BEYC marina is full, we can head to Leverick Bay or Saba Rock, both in Gorda Sound.
Alternate for Wednesday: If we decide we would rather not stay at the BEYC for an additional day (or cannot) we can go to Marina Cay near Great Camanoe Island or Trellis Bay at Beef Island.
Thursday, May 7th, 2015 – Virgin Gorda to White Bay at Jost Van Dyke
We'll have our longest single day of sailing going from The Bitter End over to Jost Van Dyke, at around 24 nautical miles. It won't be difficult though, as we'd have the wind at our backs the entire way, sailing on a run or broad reach. We'll be looking at 3 to 4 hours of exciting sailing, and end up in White Bay at the island of Jost Van Dyke.
At White Bay we'll be able to go ashore and not only enjoy the beach (and small village) but also the Soggy Dollar Bar, the birthplace of the "Painkiller" cocktail. There are hammocks on the beach under palm trees as well as several other places to eat, drink, or shop. We'll also be able to walk into the interior of the island and look around, something I plan on doing (for birds, what else?).
Alternate to White Bay: Little Harbor on Jost Van Dyke, the next bay to the east.
Friday, May 8th, 2015 – Jost Van Dyke to Sandy Spit near Little Jost Van Dyke
Our last day on the boat we'll be heading to one of the prettiest places in the islands: Sandy Spit, just off the east end of Little Jost Van Dyke. We'll be anchoring there (and if we've got space, we may even raft our boats together during the day).
We can go ashore at both Sandy Spit and Green Cay, swim in the shallow water, and generally enjoy a quiet, relaxing day in the tropics.
Alternate to Sandy Spit: back to Soper's Hole, possibly stopping at Sandy Cay on the way (day anchorage only).
Saturday, May 9th, 2015 – Sandy Spit to Soper's Hole at Tortola Island
An early morning sail will bring us back to Soper's Hole, where we'll unload all of our gear, check the boats back in, and take the ferry back to Charlotte Amalie and to the airport.
Overall map/route: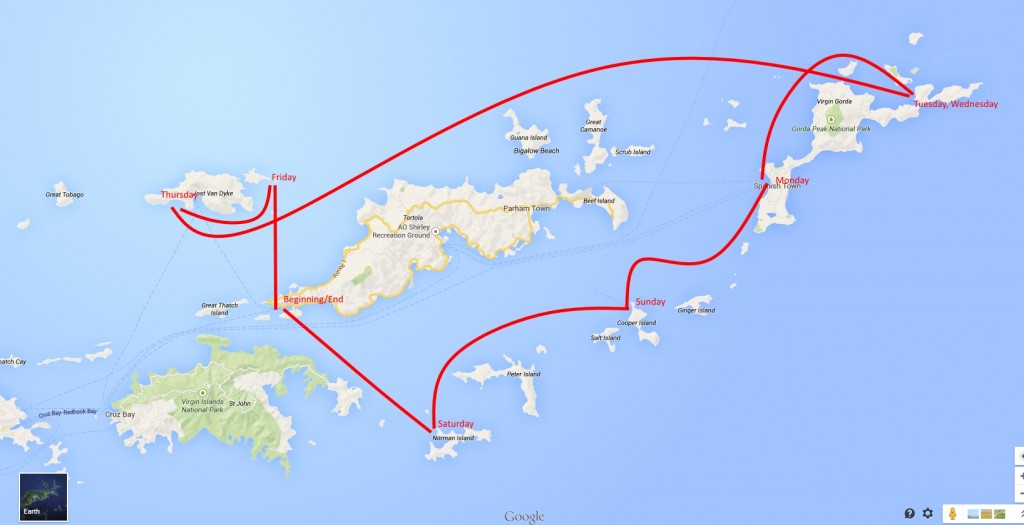 I'm just counting the days at this point.